50 Biggest Website Mistakes Update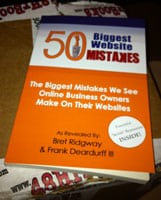 OK, it's been awhile since I've posted – I'm hoping to post more here in the near future. As you'll soon see I've been quite busy the last couple of months AND I've gotten a little "stuck" as to what to write about. Maybe you can help with that in just a minute.
As you can see by the picture my book has finally been published, I've self published the first press run, but I've been in talks with my friends at Morgan James Publishing and hope to have a deal worked out soon.
It's a lot longer process to write, layout design the whole book and probably wouldn't have been possible with out coauthor and good friend Bret Ridgway who helped make this happen. I'm looking to get some more books printed in the interim of having a full run with Morgan James. I'll keep you posted when it's possible to order if you're interested. The first shipment sold out this past weekend at the BigSeminar Finale. (if you were there and have had an opportunity to have read the book I'd love to hear your feedback about the book.)
So, to update the summer/fall classes have gone well (web graphics explained, webpage secrets & WordPress Strategies) and are all up and ready for you to watch if you're interested in any or all of them.
I've also been busy working on updating one of my popular software offerings (Affiliate Tool Generator) which should be ready in the coming weeks as well as my first WordPress plugin details coming soon.
The block I had on writing blog posts has been I'm not really sure what you want to read here. I could keep guessing or I can ask you. So I'll start by asking you 😉 – if you have something you'd like to see me write about comment on or just ramble about leave a comment and I'll see what the responses are and go from there.
I hope to add some quick video tips as in the past, maybe some reviews on ipad/iphone software I use and why and most likely some more on the different things I use and do on a daily basis. Please let me know what you'd like to see here by leaving a comment below.
I look forward to hearing your thoughts!