Apprentice Marketing Mistake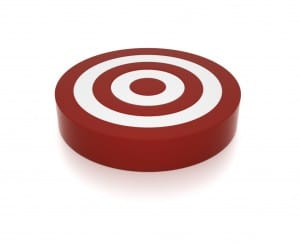 My wife and I really enjoy watching the Celebrity Apprentice each season, and this year is no exception.
I know for myself, I like watching the ideas and creativity they come up with. But something has caught my attention on almost every episode this season.
At first I tried to keep it to myself then I mentioned it to my wife, and then it almost became as bad as when I start shouting the words to the players on Wheel of Fortune.
What am I screaming at them? What is it they're missing?
WHO'S YOUR TARGET MARKET!!!
Let me explain in case you've never seen the show. Usually a friend of Mr. Trumps will bring their business in and look for some new marketing message, video, or promotion. Each of the two teams will go back to their "war" rooms and come up with an idea about the product. As they're brainstorming an executive from the company for the product they're creating a marketing strategy for will come and answer questions.
This is the point I start squirming and trying to restrain myself.
You see they ask the exec all kinds of questions but I've yet to hear them ask "who's your target market?" Now maybe they don't show that part, or gets edited as not important or what ever but it drives me crazy!
This is one of the most important thing you need to know before you can even think about marketing a product. You have to know all about that person who will eventually buy your product.
Why is this so important?
It's important because you need to use the words they use, use the colors they like, create a brand that appeals to them, think like they think. By knowing this information you will spend a lot less on your marketing efforts because you've narrowed the playing field of who you need to sell too.
Why spend tons of money marketing general terms, and trying to appeal to everyone, when you know your product isn't for everyone.
Yeah sure we'd like to think that the whole population of the world wants our orange, doublesided, self adhesive widget. But we have to face the facts that not everyone wants or needs one.
Maybe this will help a little, in a copy writing course I took with my friend Lorrie Morgan Ferrero of RedHotCopy.com – she told us she goes as far as what the person might look like or wear, even possibly name the person, so that when she's creating her marketing messages, letters she knows exactly who she's talking to.
I hope you've taken the time to figure out who your target market is. If not, you still can. Take a time out, think about it and refocus your marketing.
As always feel free to leave a comment if you have thoughts about determining YOUR target market. Maybe share ideas you use to determine who your market is.