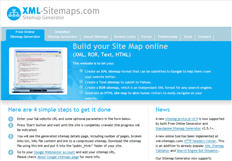 In my last post I mentioned Google.com's webmaster tools. One of the things they mention to help get your site listed is having a sitemap page. I have found a site that will allow you to create this xml-sitemap online in just a few simple steps.
This is a good resource to get your site map in the format Google prefers.
I will be adding more on this subject on the next post.
Until then.
All the best and much success in everything you do.
Frank Deardurff – ThatOneWebGuy.com