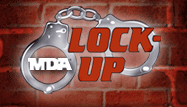 Just a quick update I've not yet received my photo back from MDA with my mug shot but I did surpass my needed bail to be released.
Actually due to my awesome online friends and AM 2.0 Platinum group I nearly tripled the amount set as bail for the Muscular Dystropy Associations Executive Lock-up Fundraiser.
The Original bail was set at $1300 I reached that goal and raised it again and yet passed that goal up as well so I again raised it to $2,100 and YET again passed it. The current total as of this is post is $3,765 raised for MDA.
I think it is an awesome charity doing awesome things. I've grown up watching the Jerry Lewis Telethon every Labor Day Weekend and I know they work hard to find a cure and help those that have MD so I think it is a very worth wile cause.
One thing I did to help promote this charity event was that everyone that donated gets access to my WordPress Strategies course that is going online very soon. I'll keep you posted with further details.
All the best and much Success
Frank Deardurff III – That One Web Guy!