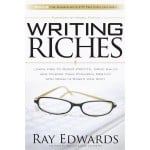 This is about how to get help from one of the highest paid copywriters on the Internet…for a measley $14.
Here's the story…
You already know the importance of great copywriting when it comes to selling your products or services.
The right words can get you more customers, more subscribers, more sales and more profit.
The wrong words can leave you with an empty bank account.
You also likely know it's very expensive to hire a great copywriter.
For instance, Ray Edwards – one of the top copywriters on the web – gets $50,000 to write copy for a product launch!
And his client list reads like a "Who's Who" of the Marketing elite. Ray has written copy for:
* Armand Morin
* Frank Kern
* Tony Robbins
* Jack Canfield
* Jeff Walker
* Joel Comm
* Mike Filsaime
* Alex Mandossian
* Mark Joyner
* Kirt Christensen
* Stephen Pierce
* Stompernet
* Nitro Marketing
* and many, many more!
Which makes what I'm about to tell you pretty amazing…
Ray has written down all his most valuable copywriting secrets… all his best tips, tricks, and checklists… and put them into a step-by-step handbook.
It's called "Writing Riches" – and it can be yours for as little as $14! Grab a copy now:
Think about it.
You're getting the same systems and copywriting tips Ray uses when creating copy for his $50,000 clients… for less than a fine dinner for two — at McDonalds!
Inside "Writing Riches", Ray reveals:
* The 14 Magic Building Blocks of Sales Copy That Sells Your Products Like Crazy (page 1)
* How To Create Headlines That Grab Your Readers By The Eyeballs and Suck Them Into Your Message (page 19)
* The Secrets Of Quickly Writing Magic Emails That Make You Money (page 35)
* How To Write Bullet Points That Virtually Force Your Prospects to Buy (page 57)
* The Secret, Triangular "Vice Grip" That Always Sells More (page 77)
* The Most Explosive Tactics For Making More Sales, More Often, With Less Human Effort Than You Ever Dreamed Possible (page 95)
* The Effortless Way To Attract A Flood Of Web Site Visitors As Easily As Turning On A Water Spigot (page 109)
* The Secrets Of Getting Your Prospects So Excited About You They'll FIGHT For The Privilege Of Buying Your Stuff (page 129)
* Secrets Of Writing Blockbuster Sales Copy… By Watching Movies (page 149)
Grab your copy of this must-have book right now by clicking here:
As if this weren't a great deal already, Ray has really made this an irresistible offer — like any great copywriter would! Here's the story…
when you buy the book this week (and this week only), you get a free, "live" web class taught by Ray himself. The estimated retail value of the online class is $197.
It's called "7 Simple Ways To Double Your Profits In The Next 12 Months"… and registration is easy! You simply send Ray your online receipt for your book purchase, and you get a free pass to the class!
Get the full story here:
Do this right now, while you're thinking about it.
You'll thank me later!
NOTE: The above links are not affiliate links – I think this is an awesome book, I'd actually suggest you get two copies one to keep for you self and one for whom ever writes your copy.