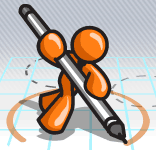 As a web developer, designer, and online business owner, I'm on the web a lot I get questions from time to time about utilizing graphics on web pages or other components of web business. Plus I see a lot of miss use of web graphics on websites.
Because of what I do online and the fact that I have several training courses, some friends, colleagues and clients suggested I put together a training course showing how I use graphics for my web pages, web sites, blogs, order pages and things like that.
Of course there are other things I use graphics for on a daily basis like banners, covers for eBooks, CD/DVD labels, eCovers to show products on websites and thing like that which I will cover in the course, but I really like to know what specific questions you have so that I can make this complete course I can.
So…
If you could visit Web Graphics Explained and post what questions you have about using or creating graphics for your web business, I'll put you on the "early bird" list so you'll be first to know when the course is launched and get special discount pricing when I launch this course just for submitting your question.
Go Ahead and visit http://www.webgraphicsexplained.com and let me know your question!