Comments With "Face" Value
If you've looked at many blogs you've probably noticed in the comments section that several of the comments have an image of the person leaving the comment.
Of course not all blogs do this some have a preset image or icon.
I'd thought I would share in this post how you can set this for you blog as well as for the blogs you post on. First login to you blog, the in the admin area on the menu on the left look for "discussions". At the bottom of that page you'll see the option for "Default Avatar" (See Image Below)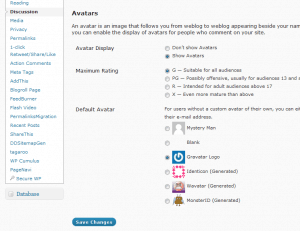 The default for this I do believe is "Mystery Man". But if you change this to "Gravatar" anyone that has an account at Gravatar.com will show their image there when they leave a comment on your page, provided they use the same email address that they used to create their gravatar account. I've noticed MANY blogs are using the gravatar setting. Gravatar.com is a free service and is easy to set up.