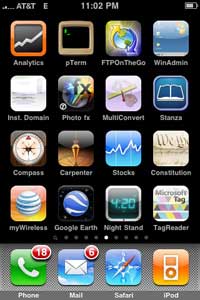 Several people have asked what applications I have installed on my iPhone, well that would be a long list so I though I would focus on a couple that I use for my web businesses.
To Keep track of time on projects I use an application called "TimeLogger" really cool and easy to use. Allows me to send time reports back to the office. The next one would be "Things" that helps keep track of project lists. For notes and quick todo's I've been using "Evernote" seems really easy to use and syncs with my desktop and my account on their website. Although I still like the interface of "One Note" on my desktop since it doesn't sync anywhere it is quickly being replaced.
A must have app is the "wordpress" App that let's me make posts to any of blogs that I have configured in the app.
For tracking stats I use the "Analytics" app which checks all my Google Analytics accounts. I also use the Google App for utilizing the Goolge services. Since I have a web hosting company (ThatOneHosting thanks for asking) I use the "pTerm" application to "shell" into the servers terminal interface to reboot or restart services and things like that.
A pretty slick app I found recently is "FTPOnTheGo" this app will allow you to connect via FTP to your website download a page make changes and then reupload. Really handy if a we quick change is needed.
I us an app called "WinAdmin" to remote into my home desktop in case I need to use an application that I don't have access to on my iPhone.
I've recently been trying an app called "Photofx" to make minor modifications to images on my phone comes in handy if I'm wanting to make a quick post some where with a pic I've taken with the iPhone camera.
Of course as I've said I have tons of other applications installed like the different social media apps and games and readers and things. I'd be really interested to hear what iPhone Applications you are using to fulfill your business needs from your iPhone.
Feel free to leave a comment to let me know what your using or suggest one I should try out.