Labor Pains BEATS White Trash With Money
Yeah you read that right Michael Lee Austin's (Armand Morin?) "Labor Pains" is in the #2 Spot on Amazon as of this post Ahead of Toby Keith's "White Trash With Money" Chasing the #1 spot Rascal Flatt's "Me And My Gang".
Check it out: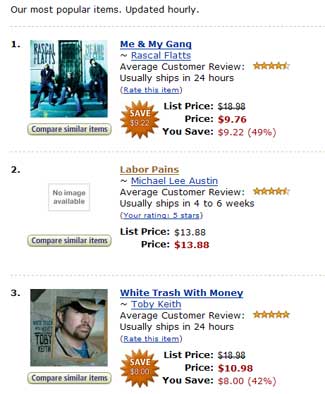 Click the image above to see for your self!
This is a cool CD my favorite track on it is "Another Fine Mess".
Want to find out more about this promotion? Check out:
http://www.michaelleeaustin.com/promo.html
Until next time All the best and much success!
Frank – ThatOneWebGuy.com