Ready for 50 Biggest Mistakes?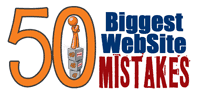 Well it appears that my next course is nearly complete!
Actually almost 2 products complete but the one I'm talking about is…
"50 Biggest Website Mistakes – I see Online Business Owners Make"
We are making the final tweaks on it and will be launching it very, very soon. Many of these tips are a compilation of blog posts I've made and observations I've seen from being a marketing direct response webmaster for many years.
If you'd like to keep up to date when this product launches be sure to visit…