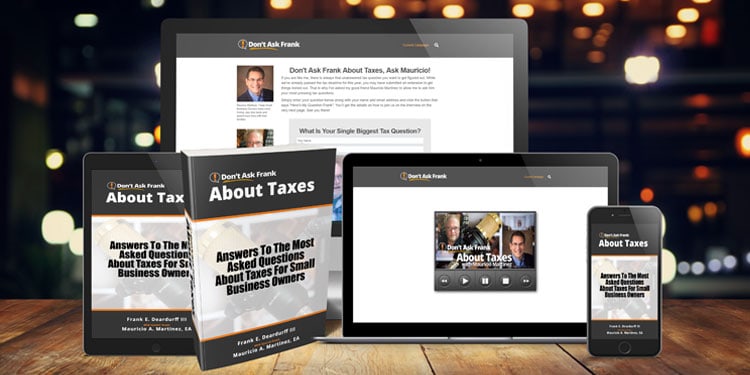 Questions About Small Business Taxes
In my most recent "Don't Ask Frank" series I had the honor of interviewing my good friend Mauricio Martinez where he answered the most asked questions about small business taxes.
We had some really great questions submitted and the interview actually lasted 90-minutes (30 minutes longer than planned) due to the fact that Mauricio went into great detail to answer the questions.
We talked about topics such as:
Business entities such as LLC, C-Corp, and an S-Corp.
What to do if you get behind with your taxes.
Explanation of the difference between a CPA, Registered Agent and Enrolled Agent.
Fair Pay Compensation, and what is ethical.
Is Leasing a car for your small business a good idea.
And so much more.
If you were not able to join us you can pick up the replay at DontAskFrank.com/about-taxes
About The Process
I wanted to share the process I used to for this interview. While I'm still working on getting better video for the interview the process went really well.
First I already had the topic in mind as I know this is an area that I've had questions about and I'm certain other small business owners struggle with all of the detail about small business taxes. I also knew this was something I could not teach myself. So, that's when I contacted my friend Mauricio who quickly agreed to help me out.
I set up the question in a campaign at Yurpl.com and copied the code to my website. Due to time restraints, I had scheduled this about a week out. Normally I would have given it about 30-days to get as many results as possible.
Yurpl – allowed me to capture the questions as well as use some other tools to analyze some information about the questions submitted.
For this interview, we hosted it via Go To Webinar though I will be testing some other options for the next interview. We recorded the webinar and I exported the audio to have an MP3 file as well as the MP4 file for the video version.
The MP3 is useful for uploading to generate the transcript. The service I used for that is Descript which allows me to listen and edit the text as needed. Once the transcript was done I exported to a word doc which I finished off with some graphics to match the other graphics I had done for this interview. I created several graphics for social media and for my website in Photoshop.
I'm already in the process of creating a video training title Photoshop for small business owners and am contemplating a training video to show the exact steps used above.
I'm already in the planning stages for the next "Don't Ask Frank" interview. If you have suggestions about topic and or who to interview, leave your suggestions in the comments below.